Submitted by

superboomi

on Fri, 08/30/2019 - 00:00
Up Studios' hit animated series Super BOOMi topped ratings on Treehouse TV in Canada in May among boys ages 2-5, beating Thomas & Friends and Peppa Pig in this demographic category. In June, the show ranked #1 amongst girls ages 2-5 on Treehouse TV, outperforming series such as Masha & The Bear, Shimmer and Shine and Emma.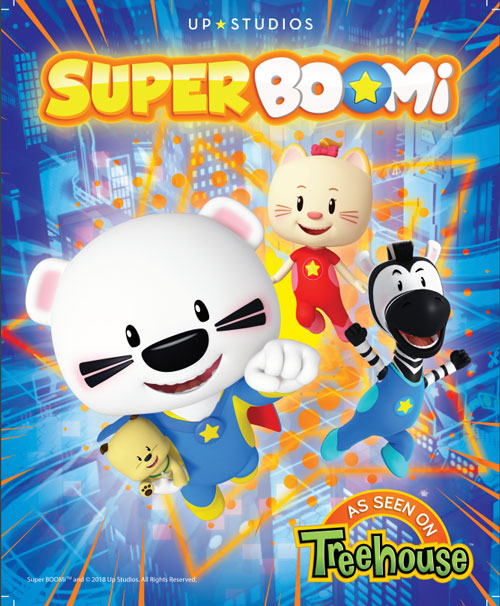 Super BOOMi debuted on Treehouse TV in Canada on May 19. The show has been airing on both Saturdays & Sundays at 7:55 PM EST, with new episodes broadcasting on Sundays and rerunning on Saturdays. The 3D-animated series follows the adventures of BOOMi bear and his best friends as they play and learn in an incredible virtual reality game universe. Focusing on themes of friendship, positivity and the power of imagination, Super BOOMi features vibrant characters and expansive worlds that resonate with kids on a fundamental level.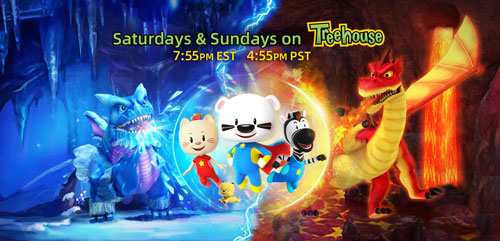 Co-invested by Up Studios and Tencent, Super BOOMi premiered in 2017 in China has become one of the most popular animated series in the country. With four 52x11min seasons, Super BOOMi has built an extensive audience in China through Up Studios' partnership with the country's tech giant Tencent. The show has topped ratings across China while broadcasting on leading kids TV channels including CCTV14, Hunan TV Golden Eagle Cartoon and Beijing TV Kaku Cartoon and Guangdong TV Kids Channel. The cartoon has also garnered over 3.1 billion views on Tencent Video and continues to grow in popularity.
Following its domestic success, the ambitious show has set the goal to expand in the international market. Super BOOMi signed a major international distribution deal with acclaimed family entertainment company, Nelvana, whose award-winning shows are broadcasted on TV channels in 160 countries. Nelvana's extensive experience in licensing, consumer products and content development will undoubtedly take Super BOOMi to the next level for fans worldwide. Nelvana has brought Super BOOMi to Licensing Expo 2019 (Las Vegas) and featured the brand at Brand Licensing Expo in London.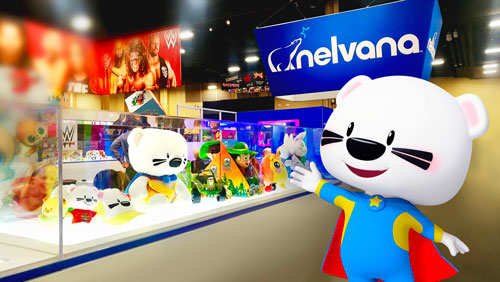 About Nelvana
Nelvana is Canada's premier animation company and a world-leading producer and distributor of children's content. Nelvana has delighted audiences around the globe for more than 40 years with a vast library of more than 4,000 episodes. Nelvana's content is distributed in more than 160 countries worldwide and broadcast across Corus Entertainment's suite of leading kids networks. For more information, visit www.nelvana.com
For more news on Super BOOMi, please follow us @UpStudiosWorld on Facebook, Twitter, Instagram and Facebook.
EN